TOP OVERALL TEAM
The Al "Mud" Moore Trophy
Memorial by Col. Clifford "Cliffy" Latta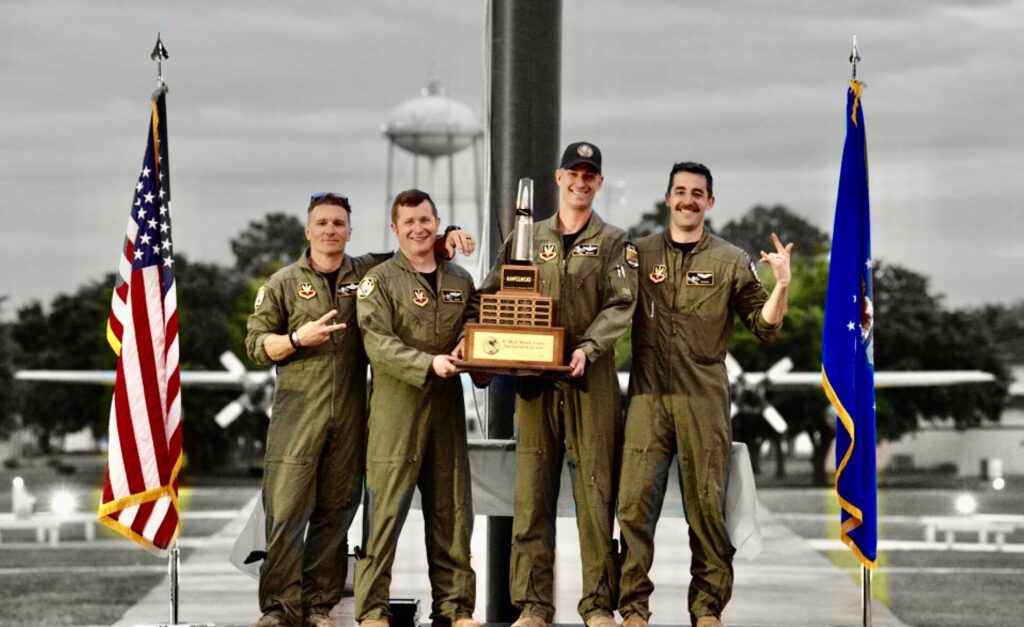 Al Moore was born on April 17, 1946 in Paragoud, Arkansas. Al's Dad served as a Sergeant in the U.S. Air Force, and as a result of this Air Force upbringing, Al aspired to a career as a pilot.
He graduated from the University of Hawaii in 1967 with a degree in Political Science and a Commission as an Air Force Second Lieutenant.
He finally realized his dream and graduated from pilot training in 1969 from Randolph AFB, TX as a member of Class 70-01.
Al's initial assignment was a Fairchild C-123 Provider to Vietnam. He attended transition training at Lockbourne AFB, OH, and in 1970 was deployed to Phan Rang AB, South Vietnam. As a testament to his warrior ethos, First Lieutenant Moore volunteered for a second tour in Vietnam, and was sent to A-37B Dragonfly transition training at England AFB, LA.
As an appropriate aside, the A-37B was a direct predecessor to the A-10. It wasn't the flimsy T-37 training version. It was much beefier with more powerful engines, cockpit armor, redundant flight controls, provisions for aerial refueling and a strengthened airframe. It had four under-wing hard points, self sealing fuel tanks and a carried a General Electric GAU-2B 7.62 mini-gun mounted in the nose compartment with 1,200 rounds of ammunition. It was known for it's ability to loiter over the target area and was able to operate under cloud cover and in terrain that might have deterred faster jets. The A-37B was well equipped for operations from primitive airfields and required little of the high tech maintenance needed by more sophisticated warplanes. Both its pilots and the ground troops they protected loved it for it's ability to provide nearly constant cover. Many of the tactics flown by attack pilots today come directly from the A-37B.
As a newly minted Attack Pilot, Captain Al Moore was sent to 604th Special Operations Squadron, Bien Hoa, South Vietnam.
Al met the love of his life and future wife, Trang, during this tour. He also flew numerous combat sorties including one fateful mission on December 4, 1971 when Al was shot down while supporting US troops on the Cambodian-North Vietnamese border. After ejecting, Al's parachute drifted into North Vietnam where he spent the better part of a day evading the North Vietnamese until he was eventually rescued by friendly Cambodian ground troops. As was typical of his dry humor, Al said after his recovery, "Except for getting hit, everything went my way all day." For his service in Vietnam, Captain Moore earned five Distinguished Flying Crosses with V-devices for valor, numerous Air Medals, and a Purple Heart.
In 1974 the young couple was reassigned to Davis Monthon, AFB, AZ where Al flew the A-7D, Corsair II until the newest attack aircraft in the inventory, the A-10 Thunderbolt II, or Warthog, came into service. Al was one of the very first A-10 pilots and was part of the initial cadre of instructor Pilots serving in both the the 333 and the 355 Tactical Flying Training Squadrons. Al earned his tactical callsign "Mud" during this tour for his extensive work on air-to-ground tactics for the A-10.
In 1980, Mud and Trang were reassigned to the 66 Fighter Weapons School at Nellis AFB, NV where he served as one of the initial instructors for the fledgling A-10 Fighter Weapons Instructor Course. Mud stayed at the Weapons School until 1985, where he earned numerous top instructor awards and eventually served as the A-10 Division Commander.
After Nellis, Lt. Col. Moore did a remote tour to Suwon AB, Republic of Korea where he served as as the Operations Officer for the 25FS Dragons from July 1985-July 1986. As an Operations Officer Mud became known as the "protector of the Lieutenants" by routinely allowing them to upgrade to flight lead on their initial one year tour and even authorizing Lieutenant-only flights into P-518, the narrow piece of land separating North and South Korea. This was highly unprecedented for the time and perhaps the reason he earned another tactical call sign, "The Silver Fox" for his prematurely greying hair. PILSUNG!
After Suwon, Lt Col. Moore attended the US Army War College in Carlisle, PA.
In 1986, after graduating War College, Mud turned down a desk job and a sure trajectory to General Officer in order to continue flying. Lt. Col. Moore and Trang were reassigned to the largest Wing in the USAF, the 81FW at RAF Bentwaters/Woodbridge which was home to six A-10 squadrons. Mud initially served as the Assistant Operations Officer for the 509FS. In 1987 Mud became the Commander of the Snakes, the 78FS. Mud and Trang had their only child, their son Jim, during this tour. It's appropriate that Al's son Jim is currently serving as a Captain in the USAF. In his two years as commander of the Snakes, Mud led the squadron to two consecutive Thompson Trophy victories. The Thompson Trophy was the Wing's coveted annual Top Squadron trophy. Mud completed his tour in the UK as the Deputy Operations Group Commander of the 81FW.
In 1990, Colonel Moore was reassigned to Eielson AFB, Alaska where he served as the 354th Vice Wing Commander. While there Mud flew the F-16, which he decried as being "just a bit too fragile."
Mud ended his AF career on the PACAF staff from 1992-1994.
On February 13, 1995, Mud was tragically killed while flying for Las Vegas Air.
Colonel Mud Moore faithfully served his country for 26 years. He was known for his quiet confidence, selfless leadership, extreme competence as an aviator, wicked dry sense of humor, absolute unfaltering commitment to the Close Air Support Mission, and love for an occasional shot of Tequila. Although he loved the A-10, he often claimed to be platform agnostic preferring to spend his energy teaching young pilots tactics and the critical importance of protecting our troops on the ground. Mud was often heard saying, "Fighter pilots make movies, attack pilots make history." His commitment to the CAS mission has indirectly touched every attack pilot who has been lucky enough to strap on a Warthog. True to his nature, he would be embarrassed to know that a trophy was named in his honor. He didn't seek attention. His professional desire was for competent, safe Attack Pilots.
TOP CONVENTIONAL BOMBING TEAM
The Lt Col Jeffrey J "Berger" Watterberg Award.
Memorial by Col. Dan "Dan-O" Swift
Lt Col Jeff Watterberg was born in Albuquerque NM. He joined the USAF in 1975 and was one of the first Second Lieutenants to be selected to fly the A-10 Warthawg. His assignments took him to Myrtle Beach AFB SC, RAF Bentwaters UK, The UASF Fighter Weapons School Nellis AFB NV, England AFB LA, The Warrior Preparation Center, Germany, Back to England AFB LA where Jeff served as the Assistant Operations Officer of the 76 TFS "Vanguards" . He forward deployed to King Fahd AB Saudi Arabia for Desert Shield and Desert Storm
Jeff was an outstanding fighter pilot, superb tactician and exceptional squadron mate. He was keen to say " this is the best fighter squadron in the USAF" He would say that the day he joined a new squadron and proudly put that patch on his flight suit. It did not matter what his old squadron was or their history. Today mattered, these guys mattered.
Jeff was instrumental in the Vanguards success in Desert Storm. A calming guide for all who were preparing for their first combat sortie. He made sure everyone was prepared, tactically, physically and spiritually. He lead multiple sorties but more importantly, he listened to those returning from those tense sorties and shared their lessons learned with the next pilot to step.
After Desert Storm squadron training programs intensified to upgrade the returning combat veterans into flight leaders and instructors. Jeff was the instructor everyone wanted to fly with and Lt Mike Miller was no exception. He and Jeff collided over a wooded area in Louisiana at low altitude. Both airmen were killed doing what they believed in and what they loved doing in September 1991.
Jeff is survived by his wife Jeri, son John, and daughters Joy and Jackie.
Jeff's business card showed his sense of humor. "One of the free world's finest fighter pilots, first line of defense against the dreaded red peril, and in command of the skies and dirt" in addition skills of " off color humor my specialty" Jeff also was also a very spiritual man with Psalm 144 concluding his card
Jeff's name was chosen for this top conventional trophy by hundreds of his peers who could think of no one more deserving of this special honor.
TOP TACTICAL TEAM AWARD
Capt. Steve "Syph" Phillis Award
Memorial by Col. Greg "Hendo" Henderson
Steve "Syph" Phillis was born in Rock Island Illinois and was a 1982 graduate of the United States Air Force Academy. After attending pilot training at Laughlin AFB, Syph was assigned to the 75th Tactical Fighter Squadron at England AFB, Louisiana.  After his duty at "Alex", he was assigned to the 25th Tactical Fighter Squadron at Suwon AB, Republic of Korea.  While at Suwon, Syph attended USAF Fighter Weapons School, with a follow on assignment to the 353 Tactical Fighter Squadron, Myrtle Beach AFB .  In August of 1990, the 353rd was deployed to King Fahd International Airport in Saudi Arabia in support of Operation Desert Shield.
In January of 1991 Operation Desert Shield became Operation Desert Storm, and the 353rd began conducting daytime combat operations.  On February 15, 1991 Syph was sent with his wingman, Lt. Rob Sweet, to strike Iraqi Republican Guard Forces in northwestern Kuwait and southeastern Iraq.  These were Saddam Hussein's premier forces that he was holding in reserve for the eventual ground war.  Syph and Sweetness were receiving fire as they struck their targets that day, and Rob was struck by an SA-9/13 that made his aircraft uncontrollable, leading to his eventual ejection.  Syph began to coordinate the CSAR with flights in the adjoining kill boxes, and was subsequently hit during the process.  He turned his aircraft south and used code words to report his battle damage – the last words we heard from our good friend and warrior.
His crash site was discovered by an alert air liaison officer (ALO) as he moved north during the ground war, and officials visited the site after hostilities ended.  The entire unit watched with guarded anticipation as the POW's were released – elated to see Sweetness and devastated to not see Syph.  The investigation determined that he did not attempt ejection and went down with the aircraft.
Syph was a true friend and an intense attack warrior.  He was the undisputed tactical conscious and tactical leader of the unit.  We wish he was still with us today, but he died in a heroic manner doing what he loved and was born to do.  I hope everyone at Hawgsmoke, will take a minute and remember and honor a true Hawg hero who left this world too young  30 years ago.
OUTSTANDING PILOT AWARD
Lt Col Robert H. "Muck" Brown Award
Memorial by Col. Jack "Coach" Allison
The Hawgsmoke Top Pilot Award is named for Lieutenant Colonel Robert H. "Muck" Brown.  Muck was born to Glenn and Evelyn Brown on July 14, 1957, in Waynesville, NC.  A member of Tuscola High School's Class of 1975, he went on to receive his Bachelor of Arts in Political Science with Honors from Wake Forest University in 1979.  He joined the United States Air Force in 1981 and became an A-10 Attack Pilot. 
Muck was named the Outstanding Graduate of USAF A-10 Fighter Weapons School Class 86 BIVA-10. In 1987, he was awarded the Robbie Risner Award as the overall outstanding graduate of the USAF Weapons School. During two tours at Nellis as an instructor and later Commander of the A-10 Division of the Weapons School, he was recognized as the outstanding IP multiple times by the students. 
He flew NATO peacekeeping missions over Bosnia-Herzegovina out of Aviano Air Base, Italy in support of Operation DENY FLIGHT from 1995 to 1995 and combat missions over Iraq in support of Operation SOUTHERN WATCH in 1999.  Muck eventually achieved over 3,100 hours in the A-10.He retired in 2001 after 20 years of service and flew briefly thereafter as an international co-pilot for UPS before voluntarily returning to the USAF following the attacks of 11 September 2001.  He served for 3 more years of active duty.  During these last 3 years his impact on the Combat Air Forces (CAF) and the A-10 community was immeasurable!  While assigned to Air Combat Command, almost every major tactical and technical upgrade for the A-10 fleet can be directly attributed to his leadership and initiative.  His vision and leadership made the integration of the advanced targeting pod on A-10's and the conduct of blacked out A-10 NVG operations a reality.  During 2002-2003, he served for 3 months in Operation IRAQI FREEDOM as part of Combined Joint Special Operations Task Force-West/Task Force Dagger working counter-SCUD operations in the western desert of Iraq.  While assigned to TF Dagger, Muck led the Joint Counter-SCUD working group that developed the classified procedures used by all Coalition aircraft in support of Task Force Dagger. 
Following his second retirement from the USAF, Muck returned to his hometown of Waynesville NC with his daughter Anna to teach Air Force Junior F JROTC at Tuscola High, where he touched and mentored the lives of many.  On March 17, 2007, he married Martha Weathers Youngwood, with whom he shared a passion for music and faith.  In 2010, he left teaching to take a job as a defense contractor training some of America's elite combat forces with Patriot Technologies Group.  In late 2012, he became unable to continue his work with PTG due to his courageous ongoing fight with cancer.  Muck passed away on 19 Mar 2014 with his family by his side.
Warrior, Leader, Mentor, Friend
ATTACK!!