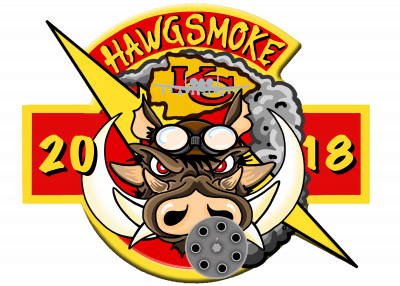 Hawgsmoke traces its lineage to the now-discontinued "Gunsmoke" event. Gunsmoke was the USAF's air-to-ground gunnery and bombing competition with multiple airframes held at Nellis AFB, with the last event was held in 1995. The inaugural Hawgsmoke was in 2000 at the Alpena Combat Readiness Training Center in Michigan, hosted by the Michigan ANG's 172nd Fighter Squadron. Col. Cliff Latta is credited with initiating Hawgsmoke, which is now a biennial, worldwide A-10 bombing, missile, and tactical gunnery competition.
This tournament is a unique and intense challenge for Hawg drivers as each squadron pits its best pilots against the same tactical situation in order to find out who is truly the best. It is also an opportunity for the pilots and support crews to share in the camaraderie and legacy of the world's premier close air support fighter.
This year, the competition is being hosted by the 303d Fighter Squadron and the Whiteman Area Leadership Council (WALC) at Whiteman Air Force Base, Mo. Whiteman has been home to the A-10 since 1994, and the 303 FS has flown the Warthog for the 442d Fighter Wing since 1982. The 358 FS has flown Hawgs at Whiteman since its reactivation in 2015.
See below for information on how to participate and sponsor Hawgsmoke 2018, Oct 17th – 20th at Whiteman AFB!