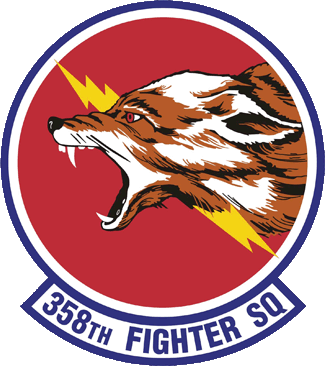 The 358th Fighter Squadron flies and maintains 28 A/OA-10 aircraft and has 250 people assigned to carry out its mission training more than 80 pilots annually in syllabus-directed conversion, conventional/tactical day and night gunnery, air refueling and dissimilar air combat maneuvers.
The 358th Fighter Squadron was first activated as part of the 355th Fighter Group at Orlando Field, Fla. After the unit was trained and equipped with P-47 Thunderbolts, the unit transferred to Steeple Morden, England, July 8. 1943.
In April 1944, the squadron converted to the P-51 Mustang. During World War II, the squadron recorded the following totals: 192 enemy aircraft destroyed and 126 enemy aircraft damaged. At the end of the war, the 358th became part of the Army Occupation at Gablingen, Germany.
On Dec. 3, 1945, the unit was redesignated the 56th Reconnaissance Squadron (weather scouting) and moved to Schweifurt, Germany, in April 1946. After a short period of inactivation, the 56th was reactivated as the 56th Strategic Reconnaissance Squadron (medium weather) and operated with the 2143rd Air Weather Wing from Misawa and Yokota, Japan.
While there, the unit supported combat operations in Korea from Feb. 21, 1951 – July 27, 1953. Feb. 15, 1954, the unit was redesignated the 56th Weather Reconnaissance Squadron and assigned to the First Weather Wing at Yokota, Japan. Weather reconnaissance missions were flown in WB-50s and later WB-57s and C-130s.
The squadron participated in the Vietnam War until January 1972, when it was inactivated. Redesignated the 358th Tactical Fighter Squadron and activated at D-M June 1, 1972, as part of the 355th Tactical Fighter Wing, the unit was once again a fighter squadron.
The 358th flew the A-7D until January 1978, when it became the 358th Tactical Fighter Training Squadron and transitioned to the A-10 Thunderbolt II. In October 1991, the Lobos were redesignated the 358th FS and were later assigned to the newly activated 355th OG in May 1992.
The squadron's training is conducted in high and low altitude military special use airspace throughout southern Arizona. The training prepares the pilots for follow-on assignments as ground attack pilots and as forward air controllers in support of battlefield interdiction. Additionally, the squadron trains its own instructor pilots. Squadron maintenance and support personnel keep the planes flying in an annual rate of more then 5,700 sorties and 11,500 hours.
All squadron members sharpen skills by participating in exercises such as Air Warrior and Fighter Weapons School at Nellis Air Force Base, Nev., Test Pilot School at Edwards AFB, Calif., and close air support training at Marine Corps Air Station Yuma, Ariz., and Twentynine Palms Marine Corps Base, Calif.
Please use the contact page if you have information you'd wish to update or change on this page.