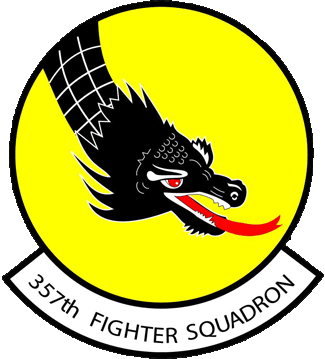 The 357th Fighter Squadron began at Orlando Field, Fla., in November 1942. The unit transferred to Steeple Morden, England in July 1943, flying the P-47 Thunderbolt and P-51 Mustang. By the end of World War II, the unit accounted for 535 enemy aircraft damaged or destroyed. Six 357th pilots became aces before the war's end.
The unit transitioned to Germany, where it remained until inactivation at Mitchell Field, NY, in November 1946. The 357th reactivated in November 1952 as the 357th Fighter Interceptor Squadron at Portland International Airport, Ore., flying the F-86 Saber Jet.
In 1953, the unit was ordered to Nousasseur Air Base, French Morocco, North Africa, to provide air defense for American facilities in Morocco. The squadron was inactive from March 1960 until reassignment to the Tactical Air Command as the 357th Tactical Fighter Squadron, George Air Force Base, Calif., July 1962, flying the F-105 Thunderchief.
In June 1964 and November 1965, the unit supported Southeast Asian flying operations. It flew out of Japan and Thailand on a temporary duty basis, then resumed flying training at McConnell Air Force Base, Kan., until January 1966 when the unit relocated to Takhli Royal Thai Air Base, Thailand.
Prior to inactivation in December 1970, the unit participated in 13 Vietnamese campaigns with six 357th pilots credited with MiG kills, including Maj. Leo K. Thorsness (who retired as a Colonel), one of 12 Vietnam-era Air Force members decorated with the Medal of Honor.
In March 1971, the 357th roosted at D-M, this time flying the A-7D Corsair II with a worldwide operational commitment. The unit was redesignated the 357th Tactical Fighter Training Squadron in July 1976 with A-7 pilot training as its mission.
In October 1979, the squadron began flying the A-10 Thunderbolt II. In November 1971, the Dragons were redesignated the 357th Fighter Squadron, and assigned to the newly activated 355th Operations Group in May 1992. In January 1993, the 357th expanded its mission to include A/OA-10s, with its A-10 mission.
The 357th Fighter Squadron fly and average 6,000 sorties a year with 28 aircraft. While the squadron is capable of training up to 65 pilots per year, the exact number is adjusted continuously to meet the needs of the Air Force.
The training consists of initial checkout in the A/OA-10 aircraft for pilots new to Air Combat Command as well as those transitioning from other aircraft. Additionally, the 357th trains experienced A-10 pilots to become qualified A-10 instructor pilots. The remainder of the squadron's flying fulfills proficiency requirements of assigned members.
Please use the contact page if you have information you'd wish to update or change on this page.