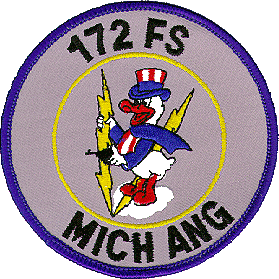 The 172nd Fighter Squadron, assigned to the 110th Fighter Wing, flew the A-10 Thunderbolt II. Its mission was to provide tactical fighter support to the United States, its Allies and the State of Michigan during peacetime and contingency operations by maintaining a combat edge through intensive tactical training and war fighting exercises.
Originally activated as the 375th Fighter Squadron in 1946, Governor Kim Siegler redesignated the Squadron as the 172nd Fighter Squadron, flying the P-51D aircraft at Kellogg Field, Battle Creek, Michigan in 1947. This was the same year the United States Air Force became an independent branch of the armed forces and the 172nd Fighter Squadron received federal recognition as an Air National Guard Squadron.
The 172nd Fighter Squadron was federally activated in 1951 for the Korean War and redesignated as the 172nd Fighter Interceptor Squadron. The 172nd Fighter Interceptor Squadron flew the P/F-51 Mustang until 1954. The 172nd, redesignated as a Fighter-Bomber Squadron, transitioned into the North American F-86 Sabre Jet. The Unit flew this aircraft only until 1955 when they transitioned into the more sophisticated Northrop F-89 Scorpion. In 1956, the National Guard Bureau announced that the 172nd Fighter-Bomber Squadron would become part of the newly created 110th FighterGroup. The Unit flew the F-89 Scorpion until 1958. In 1958 the 172nd Fighter-Bomber Squadron traded its F-89's for a new mission and a new aircraft, the Martin RB-57A Canberra and the reconnaissance mission.
The 172nd, now designated as the 172nd Tactical Reconnaissance Squadron flew RB-57A's until 1971. In 1971, the Unit's mission changed again to the Forward Air Control (FAC) mission, with the transition to the O-2 Skymaster, which it flew until 1980 when it transition to the OA-37 Dragonfly. The dedicated FAC mission lasted until the 172nd transitioned to the Fairchild/Republic A/OA-10 "Warthog" in 1991 and was redesignated the 172nd Fighter Squadron.
The 172nd Fighter Squadron flying the A-10 Warthog has served with distinction and pride in several United Nations Operations and contingencies throughout the world. From Bosnia, to Kosovo, to Alaska and most recently Iraq and Afghanistan, in support of Operations Iraqi Freedom and Enduring Freedom, the men and women of the 172nd Fighter Squadron proudly served and upheld the tradition of the military at home, abroad, or wherever the country needed professionalism, dedication, and the supremacy of air power.
Please use the contact page if you have information you'd wish to update or change on this page.